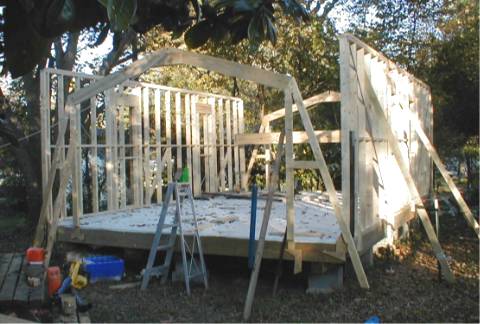 Nov. 3-5, 2000  I burned a day of vacation & finished the two long walls.  Ron, Hiram & Wally came over Sunday and lifted the walls into position.... Only 20 minutes work but I just gotta have help for this one...  Now the floor is clear to lay out the other two walls.  Next Saturday we will go & get the 2 x 12 floor joists & T&G flooring to build the second floor.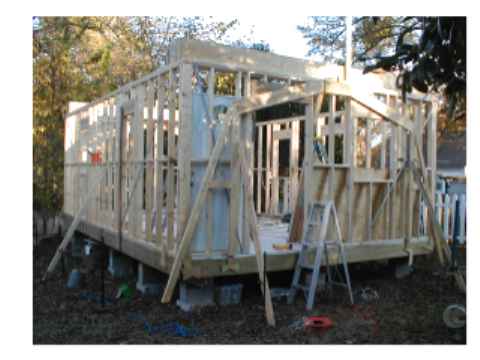 November 10-12, 2000 .. Another day of vacation burned...  On Friday I assembled the two short walls.  On Saturday morning Ron met me at Lowes to buy 2 x 12 joists & flooring for the second floor.  Then Wally & Ron helped me raise the walls & unload the rental truck used to haul the lumber.(only $20).

While I got the rough cuts for the windows near perfect, the rough cut for the door was not as square as I would like.... We checked to make sure it would shim out OK ( minimum of 1/4" gap available at all edges of the door frame ) but I still don't know why it's not dead-on...

Ron helped me to lift the HEAVY joists and secure them in groups of 9 at each end of the building.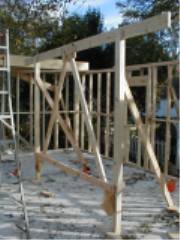 On Sunday I checked the top corners of the walls for squareness....  To start out the diagonal measurements were off by 7/8"....  After installing temporary 10' cross braces just under the top of the walls, the diagonal measurements were off only 1/4"... That should be just fine...

Placing the 2 x 12 x 16' floor joists & blocking them is not going to be a fun job.  It would be good if I had some sort of scaffolding to move around on.... Right now I don't have any.... I guess I could rent some but just doing the job a day at a time would make rentals a pain... I'm going to work from a ladder and see how it goes....

I have constructed a temporary center support beam that is 1/4" higher than the walls.  I will start placing the joists from the center of the long walls.   I hope the 1/4" will pre-tension the joists & also keep me from accidentally dropping one.

Time to clean up the site a bit....

Page 2 of my shop project.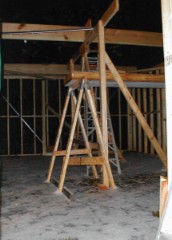 Nov. 18 & 19, 2000 - Saturday was a strange day... Temp about 47F completely overcast and dead calm.... Actually was not bad for the fall raking of leaves ritual... Did not get to work on the shop until after 2PM...  Built two giant saw horses & a scaffolding walk 2ft. wide and 8 ft. long....  Got to place only one joist for the second floor...

Sunday it was raining in the morning and turned to snow at noon time and continued till after 5PM.... Real pretty and the earliest snowfall I've ever seen....  So the shop is on hold till my next day off... Thanksgiving...

I should be able to speed the job up quite a bit now since I was told Friday that I will be laid off from my job of 25 + years on Nov. 30th...Nothing to celebrate but I'm really looking forward to time off to get these home projects done...  I'll start looking for a job in the spring...