My Shop Project - Page 13

AT RIGHT - I have added two slide-out shelves to the storage module so that I have a place to set a box while sorting thru the contents.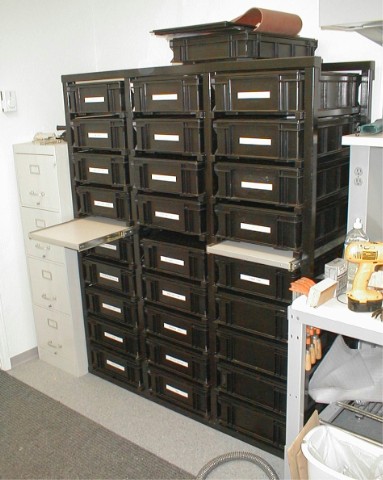 BELOW - OK... It's just a few weeks before the 2001 annual conference of the AWA at Rochester New York.  Bengt Svenson has brought me a very fine example of the LOEWE EB-100 (circa 1931)....  It needs a little cleaning up inside before placing it in the Old Equipment Contest at the conference. 

This will be my first cleanup/restoration project in my new shop.... Here I am ready to pull the chassis for the detailed cleaning and taking of photographs of the very unusual ( to American eyes) construction methods.

Much to my dismay, I cannot figure out how to remove the chassis without breaking somethng!  If you have any specific information on how to remove the chassis, please E-mail me.  I want very much to properly document the chassis details.

So... More than ten years has passed since showing my shop....  Go to the next page to see how it has changed...