General views of my collection.

I have been collecting since 1967 and soon realized I was in no position to collect every kind of radio equipment.... So, I decided that I would concentrate on broadcast receivers designed for use in the home or personal entertainment use.

This and the following page show some general views of my collection....                   Sorry for the long downloads, but these are 'busy' pictures.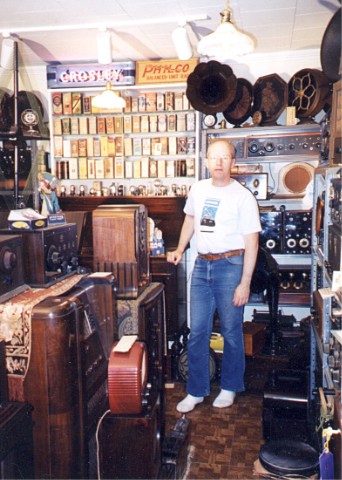 I have two rooms in which to display (more like... tastefully PACK) my collection.  Stuff spills over into my bedroom, a hall & my workshop in the house.  There are also a few hundred items waiting in the attic for space to show....  All-in-all there are over 1,000 radios, speakers, accessories and related advertising items here...

I love to exhibit my equipment at the various radio meets and visitors are almost always welcome here at the house (call first).  I seldom sell or trade anything that has made it into Lozier's Black Hole but I like to help folks with restorations & research into this field.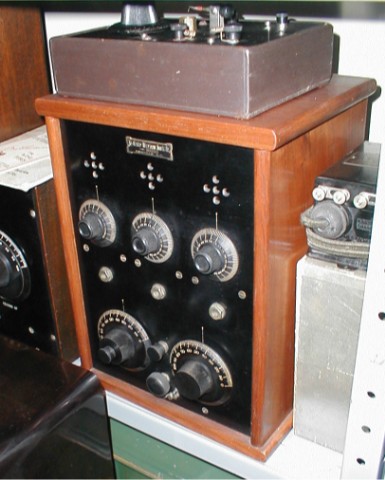 At right is a set made in 1923 by Hi-Grade Wireless Apparatus Company of Asheville, NC

While radio cabinets were being built in the Hickory, NC area in the late 1920's, I know of no other radio mfg. in NC during the 20's.

Two of these 3 tube regenerative sets are known to exist.  Hi-Grade probably built less than 200 sets before RCA lawyers threatened to sue for patent infringement.

On top of this set sits a genuine 'Edison' crystal set... Edison never manufactured a crystal set but someone had the bright idea to cut a 1/4" thick Edison Diamond Disk into a rectangle to serve as the panel of his set.  A neat idea!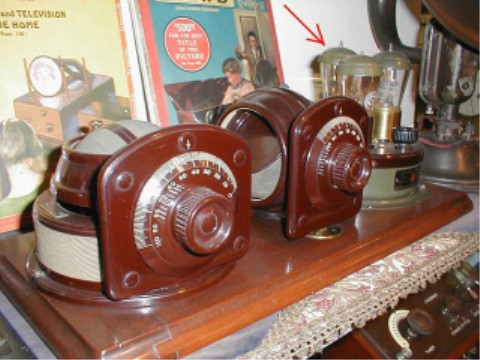 AT LEFT - Even 30 years ago every radio collector wanted to have at least one Atwater Kent 'breadboard' radio in their collection.... I have two.... The 4600 & this 3945. Both sets are not all that rare but I was thriilled to see my 3945 in an auction house complete with the, very rare, AK eye shades!

These are indeed eye shades and not the 'howl arrestors' seen on the detector tubes of later sets.  This 1922 set used 1 Amp. 'bright emitter' filament tubes that did give an uncomfortable glare. I cannot think of any other US manufacturer to do this.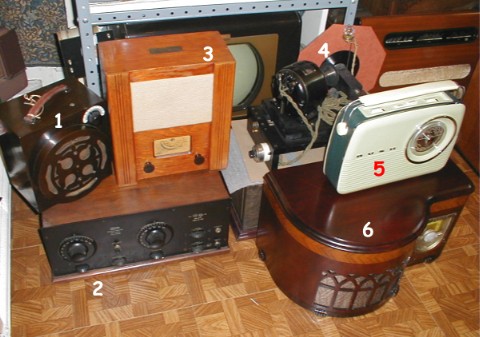 AT RIGHT - My rooms are simply not big enough!  How is this for an eclectic mix on the floor?

1 = 1929 Adey portable made in England... Has unique plug-in key for multiple radio functions... Special tubes have choke coils built into their bases...

2 = Grebe CR-14 Apparently NOS.... never used...

3 = British war-time receiver...  So many BC sets were lost to bomb damage or just lack of spare parts that the government authorized the production of a BC set using many parts standard to military sets.... The chassis is contained in a plain  plywood cabinet. 

4 = Is an exact replica I built of the first Jenkins television scanner to be sold as a kit of basic parts.  It produces a 24 line picture....

5 = A beautiful BUSH brand transistor radio made about 1959 in England.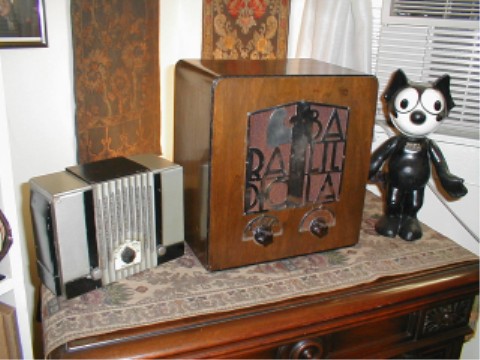 AT LEFT is an International Kadette set in a scarce wood cabinet finished in silver and black lacquer.

At center is the Fascist equivalent to the Nazi Peoples Radios.  Called Radio Balilla, this standard design set was required to be the lowest cost set in each Italian radio manufacturers product line.  Unlike the German sets, this set could not be made at a profit and was not a very sucessfull program to get radios into every home...

I have a Felix The Cat composition doll because this figure was sometimes used in early TV experiments... I have a complete outfit for simulating circa 1930 television....



6 = A 1940 Zenith radio/phono... One of the sets with a molded bakelite chassis that turned out to be a disaster for the company... Way too much breakage in assembly and shipment...  Manufacture was abandoned after about five months.  If you have any info on these sets, please contact me....

In Oct. 2012 I added more pictures of my collection.