My One Transistor Cathedral Radio Project

Back in 1994 I met a guy at the ARCI conference in Elgin, Illinois.  He was having fun building TRF broadcast band radios using six transistors.  He had also experimented with a completely self contained one transistor reflex design that would drive a loudspeaker.  I was so fascinated by this circuit that I was inspired to build the radio you see here....  It works quite well during the daytime on the local stations and at night I've DX'd more than 20 stations... 

The schematic differs from the set I have built only with regards to the loudspeaker...  The schematic shows a PM speaker and impedance matching transformer...  I found that a pin driver loudspeaker salvaged from a late 30's farm radio is a much more efficient converter of electrical to sound energy....  I have a feeling that even better performance can be derived from this one transistor if a little time were to be spent in experimentation....  So don't take my work as 'the last word'.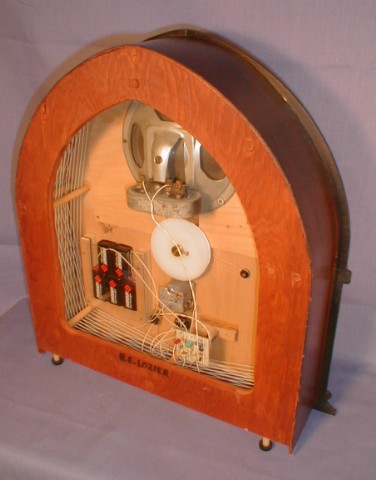 When I first built this set, I made a set of full size blueprints of all cabinet and construction details.  Some 20 people ordered the drawing package but I never received any feedback on whether any sets were produced....

Anyway, I've had lots of fun demonstrating the set over the years.

Note that the radio is completely self-contained.  The frame aerial dictates a large cabinet if acceptable performance is to be obtained... 

If you find you might want to tinker with such a schematic and have trouble locating the parts, send me an E-mail... I may be able to help.