A recollection triggered by an event at the 2000 CCAWA Spring Meet in the Carolinas

In this years old equipment contest Tom Houghtaling from Richmond displayed a working circa 1960 Philco Tandem TV.  If you have never seen one, it was an ultra-modern style TV where the CRT is housed in a tight -form fitting case with pedestal.  It is connected to its receiver by a large - flat cable some 20 feet long.  Remarkable for its time….  To give it relevance, Tom was playing the debut of the Beatles on the Ed Sullivan Show.  I happened to pass by when Nat Pendleton from Columbia was sitting transfixed right in front of the 'tube'.

This reminded me of a moment some seven years ago when our Spring Meet was still at the old Best Western on East Independence Blvd….

For the old equipment contest Stephen Brown had brought in one of the big Zenith "Walton's set" (Large table model with the big 'shutter-dial' chassis.)  It was in top condition having been restored by Stan Watkins…. To add ambience to the exhibit, I had brought in my little AM broadcaster and a cassette tape player.  I was playing the early evening parts of a great historical recording made September 21, 1939 by WJSV in Washington, DC.  It is a complete recording of the broadcast day from 6AM sign on to the 1AM sign off.  It has Arthur Godfrey as the morning host, soap operas, mid-day news, an important address by President Roosevelt to Congress regarding the war in Europe, a ball game, kids shows, 'prime time' entertainment & those great dance band remotes…. Terrific!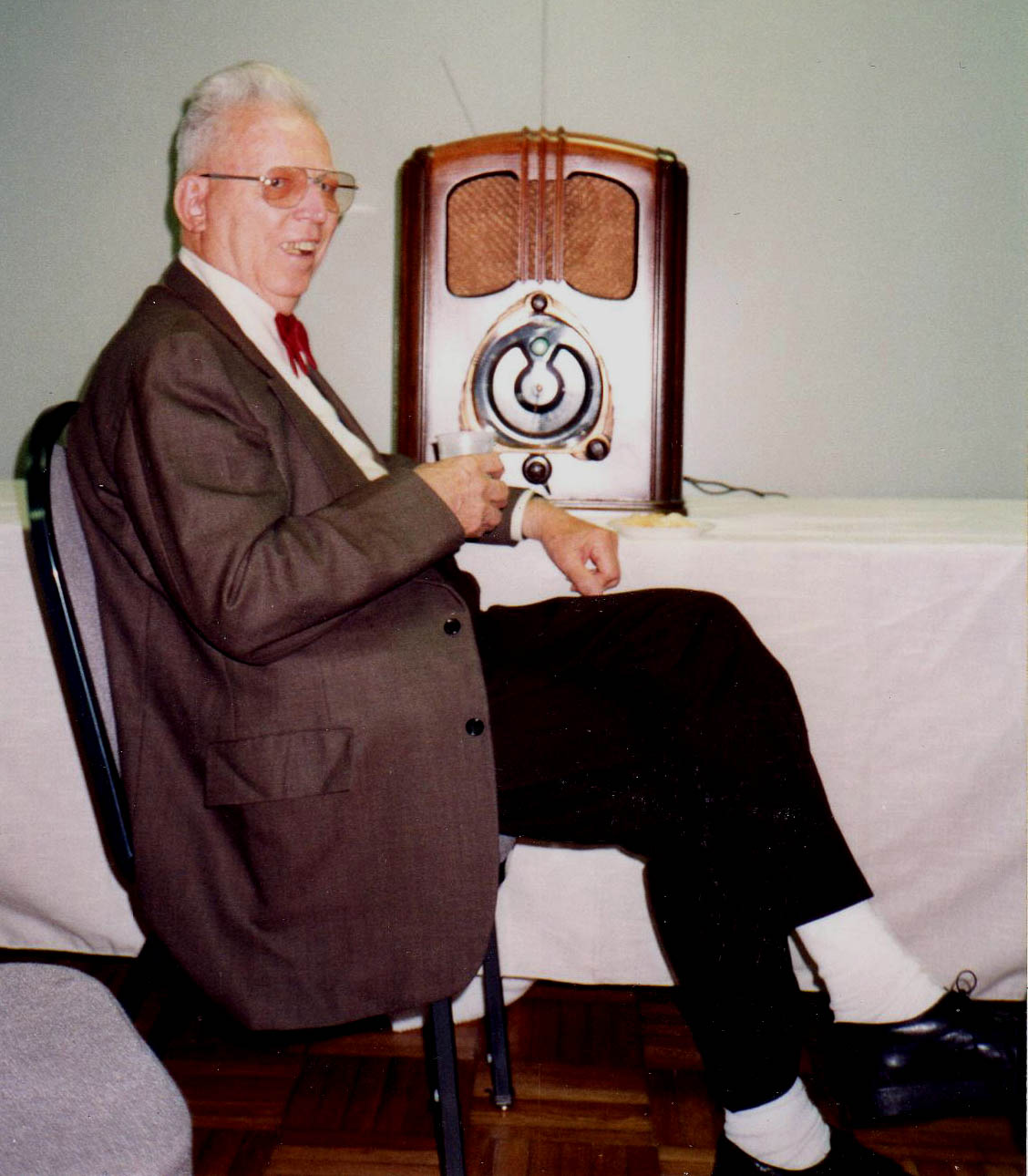 The folks at the meet had just enjoyed a special barbecue dinner catered by the hotel restaurant owner and were milling about the contest area.  Stephen's Zenith was playing quietly along the middle of the back wall of the room…. There, sitting sideways to the set in a chair was Wells Burton.  A long time radio enthusiast from the Charleston area, retired engineer, very reserved, always wearing a white dress shirt and black dress pants.  (Wells had registered for the 2000 meet but did not attend… I hope he is OK.)  He sat with his hands folded in his lap and his right ear less than two feet from the speaker located just over the un-blinking green tuning eye of the Big Black Dial.

I noticed Wells just as Major Bowes Original Amateur Hour came in over the radio.  He remained in that same position as Major Bowes started off with his famous line about the wheel of fortune…."and round and round she goes, where she stops nobody knows"… On through the Bulgarian baritone singing a peasant song, the guy with bird and animal calls, the little seven year old girl playing an accordion and then jazz piano….. Then Major Bowes giving the sales pitch for the new 1940 Chrysler cars….  Introducing a big gal belting out a tune in the style of the Red Hot Mommas and on through Sam the butcher and some of his Harlem buddies playing a hot swing tune.  Wells never moved….   He was less than 12 feet from me but I could tell that his mind was about 50 years away in that simpler time.

Robert Lozier – March 27, 2000

Ron Lawrence spotted Wells a little after his transfixed listening to Stephen's big Zenith.