Repairs to a 1934 Jensen M-20 loudspeaker.

This loudspeaker is installed in the CARLTON cabinet of my  1934 McMurdo Silver, Inc. - Masterpiece III

These loudspeakers are currently selling on e-Bay in the range of $2,000 to $4,000 if the cones are virtually perfect.  The cone on my speaker was anything but perfect.  When found at an antiques show, the speaker was loose in the bottom of the cabinet along with the loose power supply/output amp.  The unit having eventually punched through the cone during transport.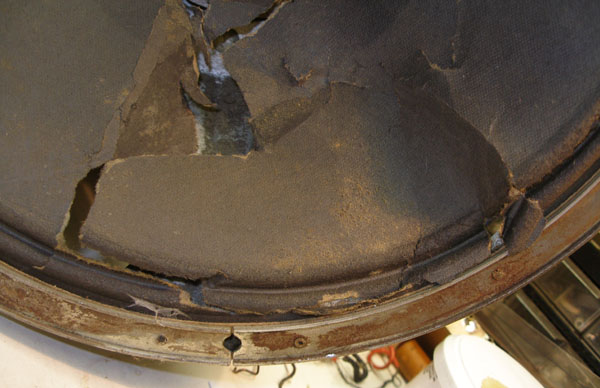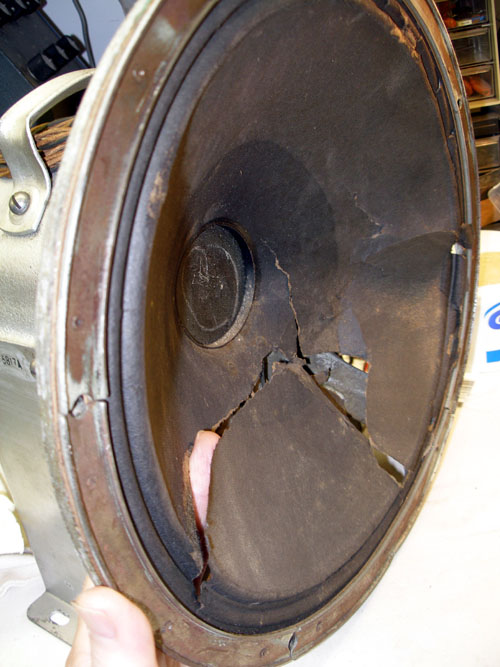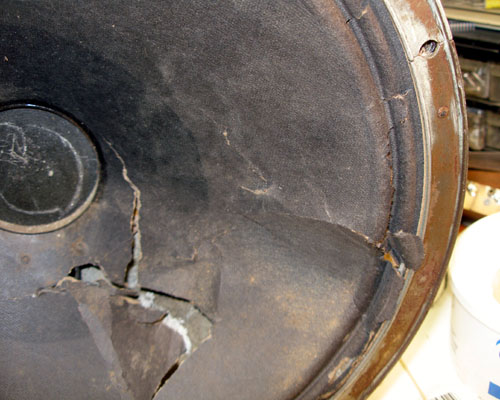 This cone is made from relatively heavy paper.  The good news was that only a tiny piece of the cone (smaller than a fingernail) was actually missing.  The cone had been punched so long that humidity had warped the paper.  So the first task was to remove the warp.  The cone was going to have to come off.  Five stamped metal flange segments are each riveted with three 1/8" solid rivets.  These could be removed using a dental burr in a Moto-Tool.  Fortunately the cone is sandwiched between two paper washers.  The paper washer between the cone and the cast aluminum frame is glued so that it was necessary to carefully cut the cone free along the glue line.

To remove the warp in the paper, I needed a surface that matched the curvature of the cone.  For me, the way to go was to make this pedestal out of MDF that has a curvature that matches the cone.  It was now possible for me to dampen the paper and apply a weight to the area that remained until the paper dried.  It worked pretty well.

You can download a Power Point presentation on repair of this speaker by going to this page.